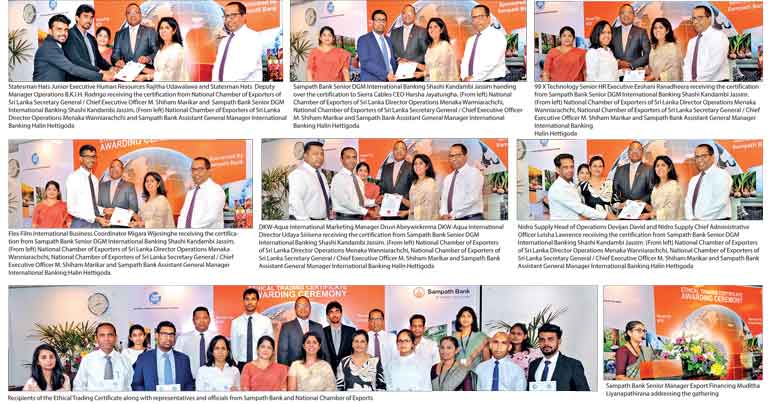 ---
Sampath Bank PLC entered into a strategic partnership with Sri Lanka's National Chamber of Exporters (NCE) recently.

 As part of this collaboration, the Bank sponsors the award for 'Ethical Trading Certification'. At a ceremony held recently, the Bank was pleased to award seven entities who had completed the NCE certification program with the 'Ethical Trading Certification' as part of fuelling Sri Lanka's export drive.

Forming this partnership with the NCE, the Bank is committed to maintaining a long and mutually beneficial working relationship as a means of boosting Sri Lankan exports in the overseas market.

The ceremony was graced by the National Chamber of Exporters Secretary General and Chief Executive Officer M. Shiham Marikar, seven winning export entities and employees of Sampath Bank. 

A total of 30 entities participated in this 'Ethical Trading' initiative, which will be continued shortly.
Presentation: Sampath Bank in association with National Chamber of Exporters (NCE) host the certificate awarding ceremony on 'Ethical Trading'
Source: Daily FT