National Chamber of Exporters says sector battered by both internal and external factors
Asserts suppliers trying to blacklist SL due to payment delays
Exporters to reduce trade with Russia and Ukraine following global sanctions
Claims fuel and power crises have crippled the only forex earning industries
NCE warns inaction by Govt. will lead to economic disaster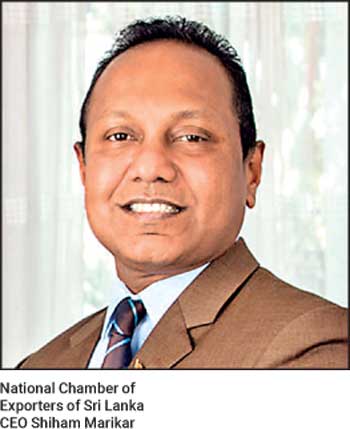 Sri Lanka's export industry yesterday called on the Government to resort to course correction on the multiple internal crises of forex, fuel and power to save the only steady inflow of the $ 15 billion annual income. The National Chamber of Exporters of Sri Lanka (NCE) also said the impacts of the Russia-Ukraine conflict, had already begun to affect trade flows.
"The export community is facing unprecedented internal and external challenges. Long hours of power outages, shortages of foreign exchange and fuel amid soaring raw material, freight costs and international trade sanctions due to Russia's invasion of Ukraine have put the export sector in a dire situation," National Chamber of Exporters of Sri Lanka CEO Shiham Marikar told the Daily FT.
Given the soaring raw material, freight charges, lack of containers and lesser shipments, he claimed internal issues such as the power outages and fuel shortages have severely impacted the entire manufacturing operations.
"Suppliers are trying to blacklist us due to payment delays as companies struggle to open letters of credit (LCs) and for not being able to service export customers' dues," he warned. He pointed out that both internal and external factors are making Sri Lanka uncompetitive in the global market. 
Marikar also said that exporters were considering to reduce their exposure or tentatively cease exporting to Russia and Ukraine, following the international trade sanctions.
"Due to the sanction imposed by the US on major Russian banks and most of the Ukrainian banks, Sri Lanka's commercial banks have currently halted dealing with banks in those two countries. Local banks are not processing any export-related documents to these two countries, which has severely impacted export industries such as tea," he explained.
Although major international airlines had ceased flying to Ukraine, some of the airlines were still continuing operations to Russia, he added.
In terms of the fuel shortage and power outages, the industry body said the entire economy had been hampered with multiple major issues. He said the companies were struggling to get fuel to keep their generators operational and lack of diesel and generators to be rented had really put companies at a crippling situation.
"We cannot reach our growers to collect the limited volume of exportable agriculture produce, goods and worker transportation are faced with major difficulties without companies unable to refill fuel to continue operations. With no public transportation and taxi workers are requesting for new transportation arrangements."
Noting that exports were the only sector that generates steady inflow of foreign exchange to the economy, Marikar pointed out that inaction by the Government would lead the country to a disastrous situation, with millions of people losing employment and livelihood.