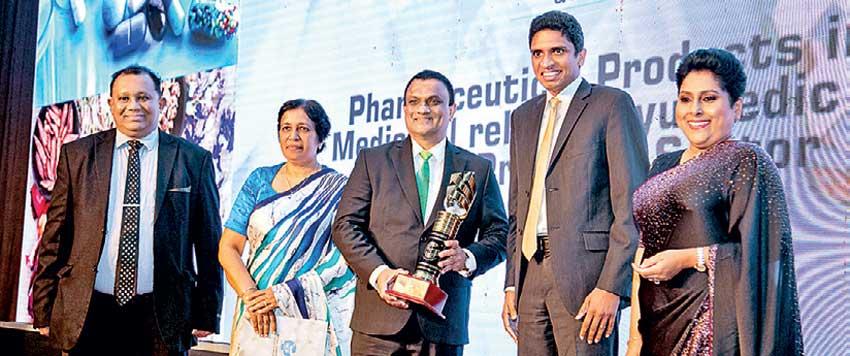 Astron Director/CEO Sirimal Fernando (centre) receives award in the presence of other Astron and NCE officials
Sri Lanka's pioneer pharmaceutical manufacturing company Astron Limited was presented the Gold award in the pharmaceutical products, including medicinal-related Ayurvedic and herbal products sector, recognising its outstanding performance in overseas markets, at the 30th Annual Export Awards of the National Chamber of Exporters of Sri Lanka (NCE). 
The ceremony was held at Shangri-La, Colombo recently, under the theme 'Recognising, Inspiring and Strengthening'. The annual ceremony organised by the NCE recognises and rewards Sri Lankan exporters of products and services on their performance in 
international markets.
"We are delighted to be recognised for our exemplary performance in international markets, underpinning our commitment to quality healthcare solutions. This award goes to further inspire and encourage our journey as a key exporter in the pharmaceutical industry in Sri Lanka," said Astron Ltd Director/Chief Executive Officer Sirimal Fernando.
Source: DailyMirror