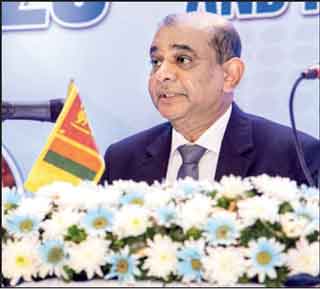 Jayantha Karunaratne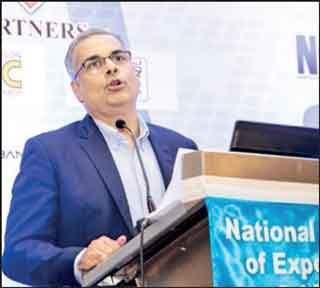 Murtaza Jafferjee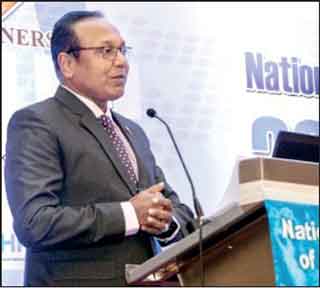 Shiham Marikar
---
The National Chamber of Exporters of Sri Lanka (NCE), the only private sector Chamber that exclusively serves Sri Lankan exporters and is known as the "Voice of the Exporter," held its 28th Annual General Meeting on 14 March 2023 at the Main Ballroom, Hotel Galadari to elect Council Members and Office Bearers for the year 2023 and to conform to other statutory requirements.

The AGM was followed by a Post Business Forum, with Advocata Institute Chairman Murtaza Jafferjee, gracing the event as Guest of Honour and Keynote Speaker.

During the AGM, Jayantha Karunaratne was elected as the new President, and Kaushal Rajapakse and Dilshan Rajapakse were elected as the Vice Presidents of NCE.

Karunaratne is the founder, Chairman and Managing Director of the Imperial Teas Group. His 40+ years of experience in the tea trade began in 1977 when he served as a Tea Taster at a leading tea export company in Sri Lanka.

Extensive travel has given him an in depth knowledge of overseas markets and trading concepts and methodologies. He is the immediate Past Chairman of the Colombo Tea Traders Association and it is during his tenure as Chairman of CTTA that Karunaratne headed and facilitated the transition from an outcry auction system to an e-Auction due to the severe implications caused on the tea industry from the Covid-19 pandemic. He is also a Past President of the Tea Exporters' Association.

He was a Board Member of the Sri Lanka Tea Board and a member of the promotion and marketing committee of the SLTB, former President of the Sri Lanka-Russia Business Council (SLRBC). He is also a member of the American Chamber of Commerce of Sri Lanka.

In September 2007, he led a delegation of the Ceylon Chamber of Commerce of the Trade & Investment Promotion Mission to Russia and the Ukraine. He was also a member of the Sri Lanka Team that conducted negotiations with Russia regarding the latter›s proposed accession to the World Trade Organisation.

In addition to the election of Council Members and Office Bearers, four Patrons for the year 2023 were appointed.

Outgoing President Ravi Jayawardena, briefed the audience on the Chamber›s activities throughout his presidency, and Jayantha Karunaratne, the newly elected President, expressed his vision for the Chamber for the year 2023. NCE SG/CEO Shiham Marikar, provided an overview of the activities planned for 2023, which will be carried out by the Chamber under the direction of the newly elected President.

Advocata Institute Chairman and CEO of JB Securities Ltd. Murtaza Jafferjee, delivered his keynote address, highlighting very important information with facts and figures about the current situation of the country's economy and trade, as well as an eye opener on the areas that can be looked at that have a huge potential on Exports.
Source: DailyFT